Our Story
How We Met
It was Jessica's freshman year of college (January 2009), and Leif decided to go to a party at a mutual friend's place near Chapman University. Jessica was there with her softball teammates, at the first party of the infamous Interterm. Not long into the party, Jessica began to notice a handsome new guy there.
Leif happened to also notice Jessica at the party (because she had the loudest laugh) and soon found himself scrambling for a way to talk to her. He saw the empty air hockey table near him and thought it was the best opportunity to get to know her.
After many laughs and flirtatious games of air hockey, Leif asked Jess on a date and told her he'd like to take her to see the best of Orange County's beaches. And the rest, as they say, is history.
The Proposal
From Jessica: It was February 29, Leap Day, and Leif's 28th birthday. I had scrambled throughout the day during work to go shopping for some of Leif's favorite dishes, and made a few of them as a surprise that night. After dinner, we decided to take a nighttime walk over to the park across the street with our puppy, Stella. It was a cold night and we were bundled up as we strolled over to the dog park.
Since it was late, the dog park was empty except for us, and while Stella ran her usual laps, Leif started playing and singing some hilarious 90s R&B songs...picture Jagged Edge (remix) "Let's Get Married". Not kidding. I didn't get the hint at all. We were just goofing around singing along and then started walking back to our apartment.
We ended up stopping in the park on the way back. Stella laid down in the grass. And Leif pulled me close with one arm (one arm behind his back), and started saying THE sweetest things about us and our future. We stayed like that for a while. It was the perfect, intimate ending to our night.
Then he said, "that there was only one thing he wanted for his birthday...for me to be his wife." And he dropped to one knee next to Stella, and pulled the ring that he had been hiding out of his pocket. The tears began, I said YES and we were engaged!
Our Wedding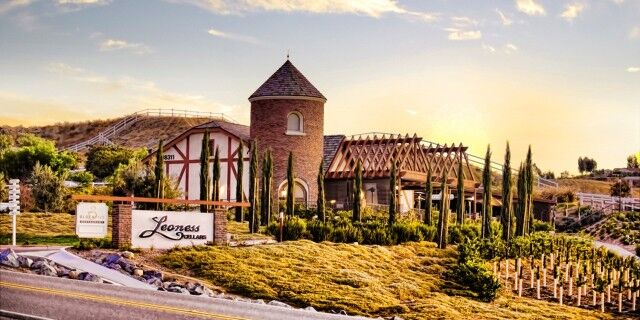 Friday, September 15, 2017
6:00 PM
Attire: Semi Formal
Ceremony
Leoness Cellars
38311 De Portola Rd, Temecula, CA 92592, USA
Reception
Leoness Cellars
38311 De Portola Rd, Temecula, CA 92592, USA
Note: please plan to arrive between 5:30 p.m. and 6 p.m. We'll have a *surprise* waiting for you beforehand, and we'll start the ceremony at 6 p.m.
Wedding Party
Lauren Kemp - Maid of Honor
Lindsey Delamater - Maid of Honor
Courtney James - Bridesmaid
Jayme Jarvis - Bridesmaid
Carly Foerster - Bridesmaid
Kendall Valenstein - Bridesmaid
Matthew Mitchell - Groomsman